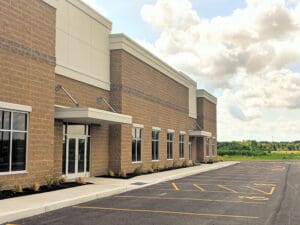 Modern Class A Flex Space for Lease at I-90 Thruway Exit 48, Batavia, Genesee County, New York.
Central Location to Service Customers in Rochester AND Buffalo
Established Campus for Manufacturing, Distribution, Office with over 100 Acres in use at Gateway I & II Corporate Parks.
Dedicated Support for Expanded Access to Workforce Talent
Triple Net Lease (Starting at $6.95/SQ FT) with County IDA Abated Property Taxes for 24 Months; Additional Financial Incentives Available
27,000 Square Foot Phase I Building completed in 2019; 4,500 to 27,000 Square Feet Custom Space Available Immediately (60 Days Finish-To-Suit)
108,000 Square Feet Approved for Phase III; construction beginning in Fall 2021; 4,500 Square Feet to Full Building Available.
Contact Chris Suozzi, Vice President of Business and Workforce Development at the Genesee County Economic Development Center – 585.409.1301 / csuozzi@gcedc.com.
Broker First Name

:

Evan

Broker Last Name

:

Gallina

Broker Company

:

Gallina Development

Broker Address 1

:

1890 South Winton Road

Broker City

:

Rochester

Broker State

:

NY

Broker Zip Code

:

14618

Broker Telephone

:

585-654-6550

Broker Website URL

:

www.gallinadev.com

ED First Name

:

Chris

ED Last Name

:

Suozzi

ED Company

:

Genesee County Economic Development Center

ED Address 1

:

99 MedTech Drive

ED City

:

Batavia

ED State

:

NY

ED Zip Code

:

14020

ED Telephone

:

585-343-4866

ED Cellphone

:

585-409-1301

ED Email Address

:

csuozzi@gcedc.com
ED Website URL

:

www.gcedc.com

Status

:

Available

Available Sq Ft

:

27,000

Min Subdivide Sq Ft

:

4,500

Max Ceiling Ft

:

20

Min Ceiling Ft

:

20

Bay Length Ft

:

10

Bay Width Ft

:

10

Building Dimensions

:

225 x 120

Construction Material

:

Steel

Current Previous Use

:

Flex Warehouse/Office

Expandable to Sq Ft

:

Floor Thickness In

:

6

Has Drive In Doors

:

Yes

Is Multitenant

:

Yes

Is Shovel Ready

:

Yes

Number of Drive In Doors

:

2

Number of Parking Spaces

:

65

Number of Stories

:

1

Number of Truck Docks

:

6

Ownership

:

Gallina Development Corporate

Parking Ratio

:

2.5/sqft

Reinforced Concrete Floor

:

Yes

Year Built

:

2,019

Is For Lease

:

Yes

Lease Type

:

Triple Net

Price Per Sq Ft

:

6.95

Rental Rate Annual

:

Interstate Name 1

:

Interstate 90

Interstate Distance 1

:

1

Interstate Name 2

:

Interstate 290

Interstate Distance 2

:

33

Highway Name 1

:

NY-98

Highway Name 2

:

NY-5

Highway Distance 2

:

2

Port Name 1

:

Port of Buffalo

Port Distance 1

:

31

Airport Name 1

:

BUF

Airport Distance 1

:

32

Airport Name 2

:

ROC

Airport Distance 2

:

33

Electric Phase

:

3

Electric Provider

:

National Grid

Electric Volts

:

480

Gas Main Size

:

3

Gas Provider

:

National Fuel Gas

Heat Type

:

Gas

Sewer Main Size

:

8

Water Main Size

:

8

Business Park

:

Gateway II Business Park

Is Brownfield

:

No

Is Floodplain

:

No

Is Trade Zone

:

Yes

Address1

:

7999 Call Parkway

Address City

:

Batavia

Address County

:

Genesee

Address State

:

NY

Zip Code

:

14020

Building Size (Sq Ft)

:

27,000

Site Size (Acres)

:

17

Latitude (Geo-coded)

:

43.02

Longitude (Geo-coded)

:

-78.18

Address for Geo-coding

:

Batavia, New York