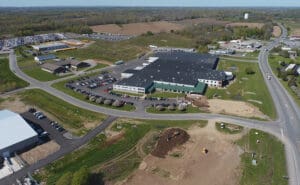 Located adjacent an Interstate 490 Exit at the Monroe-Genesee Countyline and State Highway 33, Apple Tree Acres is an ideal site for distribution-based businesses to reach customers in Rochester and Buffalo, and the 125 million consumers within a 10-hour drive.
Three major parcels are available at Apple Tree Acres – a 40-acre site along State Highway 19, a 17-acre site along Interstate 490, and a retail-friendly parcel along State Highway 33.
In addition to expanding operations at Liberty Pumps, Apple Tree Acres' 185 acres are also home to the Leonard Bus Company, Insurance Auto Action, Ad Tech and an adjacent business hub in Bergen.
In 2019, two additional companies expanded their operations with new construction at Apple Tree Acres – J-Rental's 60,000 square-foot warehouse-distribution facility and a 5,000 square-foot production facility that's home to Craft Cannery.
Apple Tree Acres is located in the Town of Bergen within three miles from Interstate 90 on both State Route 19 and Interstate 490, providing benefits to retailers and light manufacturing along with distribution centers.
The site is fully shovel-ready with gas, electric, water and sewer infrastructure in place, with low-cost municipal electric service from the Village of Bergen.
Progressive incentives are available through the GCEDC, including sales, mortgage, income and property taxes, as well as the availability of low-interest loans and grants.
ED First Name

:

Chris

ED Last Name

:

Suozzi

ED Company

:

Genesee County Economic Development Center

ED Address 1

:

99 MedTech Drive

ED City

:

Batavia

ED State

:

NY

ED Zip Code

:

14020

ED Telephone

:

585-343-4866

ED Fax

:

585-343-0848

ED Cellphone

:

585-409-1301

ED Email Address

:

csuozzi@gcedc.com
ED Website URL

:

http://www.gcedc.com/bergen
Status

:

Available

Available Acres

:

40-acre, 17-acre, and 3-acre sites available

Contiguous Acres

:

185

Max Contiguous Acres

:

40

Min Subdivide Acres

:

3

Building Land Type

:

Industrial, Office, Retail, Warehouse & Distribution

Current Previous Use

:

Agriculture

Is Divisible

:

Yes

Is Shovel Ready

:

Yes

Is Soil Boring Report Available

:

Yes

Is For Sale

:

Yes

Sale Price

:

$50,000 Negotiable

Rental Rate Annual

:

Interstate Name 1

:

Interstate 490

Interstate Name 2

:

Interstate 90

Interstate Distance 2

:

3

Highway Name 1

:

NY Route 33

Highway Name 2

:

NY Route 19

Highway Distance 2

:

1

Airport Name 1

:

ROC

Airport Distance 1

:

15

Airport Name 2

:

BUF

Airport Distance 2

:

46

Video URL 1

:

https://www.youtube.com/watch?v=eeV7q25cQGw
Electric Provider

:

Village of Bergen Electric

Gas Provider

:

Rochester Gas & Electric

Is Electric On Site

:

Yes

Is Gas On Site

:

Yes

Is Water On Site

:

Yes

Business Park

:

Yes

Is Brownfield

:

No

Is Floodplain

:

No

Is Trade Zone

:

Yes

Is Wetland

:

No

Phase 1 Environmental Report

:

Available

Streetview

:

Available

Topography

:

Available

Address1

:

Apple Tree Avenue

Address County

:

Genesee

Address State

:

NY

Zip Code

:

14416

Site Size (Acres)

:

185

Is Featured

:

Yes

Latitude (Geo-coded)

:

43.07

Longitude (Geo-coded)

:

-77.94

Address for Geo-coding

:

Bergen, New York