HANSA
Opened in August 2020, HANSA (Latin for "Guild") was inspired by the vision to build "An Elevated Office Experience" focused on flexibility, productivity, and customer service.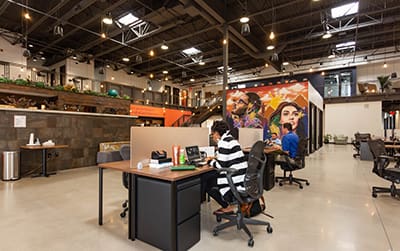 505 Ellicott Street – Buffalo NY – 14203
Size: 32,000 square feet
Description: HANSA offers daily, monthly, and annual rentals of private offices, office suites, coworking desks, meeting rooms, and event space. Its membership is made up of a supportive community of professionals who appreciate the comfortable furnishings, great coffee, and productive atmosphere. HANSA's workspace can accommodate companies looking for office space from 200sf – 5,000sf.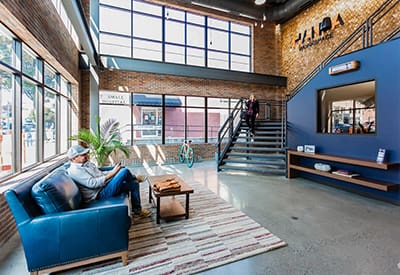 Amenities: Enterprise grade technology (redundant high-speed Wi-Fi, printing and copying services, USB and electrical outlets, podcast recording studio); Complimentary fresh coffee and snacks in an open concept kitchen with cafe seating; Free parking; Member 24/7 secure access; Six state-of-the-art meeting rooms and event spaces; Exclusive business seminars, on-site wellness activities and networking happy hours; Comfortable lounge furniture; Meditation room, outdoor patio, and mother's room; Private changing rooms with showers; Private phone booths; Locker and indoor bike storage; Mail and virtual office services.
Location: HANSA is located at 505 Ellicott Street next to the intersection of Ellicott St. and Tupper St. (next to the Buffalo Niagara Medical Campus). Its location is not only walkable to restaurants, but also provides direct access to the Kensington Expressway/Route 33, making it an easy drive to and from the Buffalo suburbs.