Brownfield Redevelopment Business Park
The 400 acres in this three-phase business park development are certified in the NYS Department of Environmental Conservation Brownfields Cleanup Program (BCP) under the pre-2008 revised program rules. All parcels are eligible for a 20% BCP refundable tax credit for all site preparation and tangible property costs related to a redevelopment project. Learn more about Brownfields and search additional properties in our database.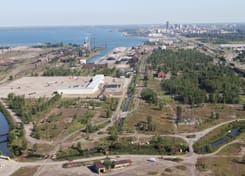 Bethlehem Redevelopment Area (Former Bethlehem Steel)
2301-2331 Hamburg Turnpike, Lackawanna
Size: 1,100 acres total; approximately 400 acres planned as a three-phase business park development.
Zoned: Varied; various commercial and industrial uses are permitted on the site.
Location: Site is located along the west side of NY Route 5 (Hamburg Turnpike) in the City of Lackawanna. The site is rail served and located adjacent to the Port of Buffalo. Interstate access to both I-90 (New York State Thruway) and I-190 within 4 miles. Access to international border crossing at the Peace Bridge within 8 miles.
Benefits: Electricity is provided by National Grid and natural gas provided by National Fuel. The site is located in the New York Power Authority's (NYPA) low cost hydropower zone.