Brownfield Redevelopment Business Park
The former Bethlehem Steel campus is being transformed into a 21st Century industrial and commercial redevelopment park along the Route 5 corridor.  The site is zoned for medium and light industrial tenants.
Nearly 100 acres in this business park development are certified in the NYS Department of Environmental Conservation Brownfields Cleanup Program (BCP) under the pre-2008 revised program rules. These parcels are eligible for a 20% BCP refundable tax credit for all site preparation and tangible property costs related to a redevelopment project.
Rail service connections to four (4) Class 1 carriers and Great Lakes deep water port access on site.
High voltage power on site eligible for low cost hydropower allocations through the New York Power Authority.
Transportation access to Canadian border crossing and multiple interstate highways within minutes.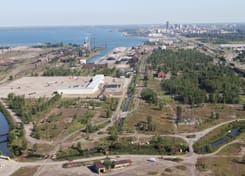 2301-2331 Hamburg Turnpike, Lackawanna
Size: 1,100 acres total; approximately 150 acres available with nearly 100 acres certified in NYS BCP. Learn more about brownfields and search additional properties in our database.
Zoned: Varied; various commercial and industrial uses are permitted on the site.
Location: Site is located along the west side of NY Route 5 (Hamburg Turnpike) in the City of Lackawanna. The site is rail served and located adjacent to the Port of Buffalo. Interstate access to both I-90 (New York State Thruway) and I-190 within 4 miles. Access to international border crossing at the Peace Bridge within 8 miles.
Benefits: Electricity is provided by National Grid and natural gas provided by National Fuel. The site is located in the New York Power Authority's (NYPA) low cost hydropower zone.