Manufacturing Facility
Former Steel & O'Brien Manufacturing facility for sale. The property contains 38,197 sq. ft. of space situated on 6.38 acres. You can search additional locations in our database.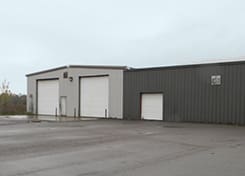 7196 Route 98 North, Arcade
Size: 3,885 sq. ft. of office space with 29,900 sq. ft. of manufacturing/storage space. There is an interior loading dock containing approximately 4,415 sq. ft.
Location: Located at the southwest junction of Route 98 North and Genesee Rd. Village of Arcade, NY. approximately 30 miles to NYS Thruway #90 at exit 48A. Approximately 5 miles to Route #16 to NYS 90 Buffalo.
Sale Price: $634,000