Plug and Play Call Center
This move-in ready call center in Orleans County is one example of the relocation or expansion opportunities that will take advantage of our available and productive workforce in a community with a workforce turnover rate lower than 15%. Search additional locations in our database.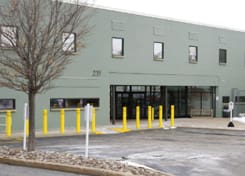 231 East Avenue, Albion
Size: 2 floors, 130,000 sq. ft., availability range 65,000 sq. ft.– 130,000 sq. ft.
Location: The Town of Albion is centrally located in Orleans County between the cities of Niagara Falls and Rochester. Access to available and skilled labor shed encompassing five counties (Erie, Niagara, Genesee, Monroe and Orleans) within 30 minutes.
Benefits: Move-in ready; plug and play call center with 900 workstations and car parking. First floor contains 293 workstations, 19 offices, 14 manager workstations, 4 training rooms, 3 conference rooms, 1 loading dock and 1 mail room.  Second floor houses 580 workstations, data room and electrical closets, full service cafeteria and game room, storage and quiet rooms.