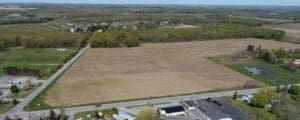 The Le Roy Food & Tech Park is a 75-acre business park with the ideal location for projects to access workforce talent, available utilities, and transportation networks to quickly reach customers. A full suite of economic resources are available for projects locating at the business park. The site is ideal for food & beverage manufacturing, light industrial manufacturing, distribution and logistics.
Site Assets include … 
– 75 acres of available greenfield parcels, expandable with adjacent industrial-zoned greenfields. Building layouts exceeding 500,000 square-feet can be accomodated.
– Fast transportation access (State Highway 19 – on-site; Interstate 90 Exit 47 and Interstate 490 Exit 1 – 3.5 miles)
– Available electric (20 MW substation adjacent to site), natural gas (400 MCF/HR available, expandable), water and wastewater (550,000 gallons/day available, expandable)
The Le Roy Food & Tech park is located near the hub of Greater Rochester, with the site less than 20 miles from downtown Rochester, NY. More than 1 million people live, work, and play within a 30-minute commute.
Le Roy is a community with natural beauty, family-friendly amenities, highly-ranked schools, and Main Street charm. Our work ethic is built from a strong history of agriculture and manufacturing.
ED First Name

:

Chris

ED Last Name

:

Suozzi

ED Company

:

Genesee County Economic Development Center

ED Address 1

:

99 MedTech Drive

ED City

:

Batavia

ED State

:

NY

ED Zip Code

:

14020

ED Telephone

:

585-343-4866, ext. 11

ED Fax

:

585-343-0848

ED Cellphone

:

585-409-1301

ED Email Address

:

csuozzi@gcedc.com
ED Website URL

:

gcedc.com/leroy

Status

:

Available

Available Acres

:

75

Contiguous Acres

:

200+

Max Contiguous Acres

:

75

Building Land Type

:

Industrial, Industrial-Light, Warehouse & Distribution

Additional Acreage Available

:

Yes

Buildable Acres

:

75

Contiguous Acres Available for Development

:

200+

Current Previous Use

:

Agriculture

Is Contiguous

:

Yes

Is Divisible

:

Yes

Is Shovel Ready

:

Yes

Is Soil Boring Report Available

:

Yes

Is For Sale

:

Yes

Sale Price

:

$55,000/Acre

Is Price Negotiable

:

Yes

Interstate Name 1

:

90 (Exit 47)

Interstate Distance 1

:

3.50

Interstate Name 2

:

490 (Exit 1)

Interstate Distance 2

:

3.50

Highway Name 1

:

19

Highway Name 2

:

5

Highway Distance 2

:

0.70

Highway Name 3

:

33

Highway Distance 3

:

6

Airport Name 1

:

Greater Rochester International Airport

Airport Distance 1

:

22

Airport Name 2

:

Buffalo-Niagara International Airport

Airport Distance 2

:

47

Airport Name 3

:

Genesee County Airport

Airport Distance 3

:

13

Electric Provider

:

National Grid - 20 MW Substation

Electric Volts

:

115 KV

Gas Provider

:

Multiple Sources

Is Electric On Site

:

Yes

Is Gas On Site

:

Yes

Is Water On Site

:

Yes

Sewer Main Size

:

8

Sewer Provider

:

Village of Le Roy

Waste Water Excess Capacity

:

550,000 gallons/day

Water Excess Capacity

:

550,000 gallons/day

Water Main Size

:

8

Water Provider

:

Genesee County Water

Business Park

:

Yes

Is Brownfield

:

No

Is Floodplain

:

No

Is Trade Zone

:

Yes

Is Wetland

:

No

Phase 1 Environmental Report

:

Available

Proximity to Substation

:

Immediately Adjacent to Site

Streetview

:

Available

Topography

:

Available

Address1

:

NYS Highway 19 / West Bergen Road

Address County

:

Genesee

Address State

:

NY

Zip Code

:

14482

Site Size (Acres)

:

75

Is Featured

:

Yes

Latitude (Geo-coded)

:

42.99

Longitude (Geo-coded)

:

-78.00

Address for Geo-coding

:

Le Roy, New York