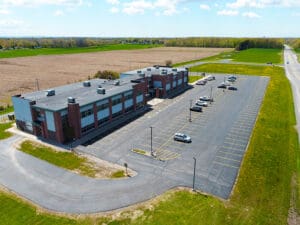 The Upstate MedTech Park is a 34-acre business park in Batavia, Genesee County, NY with the ideal location for projects to access workforce talent, available utilities, and transportation networks to quickly reach customers. A full suite of economic resources are available for projects locating at the business park.
Site Assets include …
Available parcels of 0.5 to 9.4 acre pre-permitted for 65,000 square foot in buildings.
Access to Interstate 90 (Exit 48 is 3.5 miles, Exit 47 is 9.5 miles) and 4 state highways within 3 miles.
Excess electric, natural gas, water and wastewater available on-site
Immediate access to entry-level technician talent, and over 2.1 million customers and potential workers in a 1-hour commute.
Broker First Name

:

John

Broker Last Name

:

Manilla

Broker Company

:

Pyramid Brokerage

Broker Telephone

:

585-248-9426, ext. 321

Broker Email Address

:

jmanilla@pyramidbrokerage.com
Broker Website URL

:

https://www.pyramidbrokerage.com/properties/listings/details/R6818/assemblyman-r-stephen-hawley-drive-batavia-ny
ED First Name

:

Chris

ED Last Name

:

Suozzi

ED Company

:

Genesee County Economic Development Center

ED Address 1

:

99 MedTech Drive

ED City

:

Batavia

ED State

:

NY

ED Zip Code

:

14020

ED Telephone

:

585-343-4866, ext. 11

ED Fax

:

585-343-0848

ED Cellphone

:

585-409-1301

ED Email Address

:

csuozzi@gcedc.com
ED Website URL

:

gcedc.com/medtechpark

Status

:

Available

Available Acres

:

9.40

Contiguous Acres

:

9.40

Max Contiguous Acres

:

9.40

Min Subdivide Acres

:

0.50

Building Land Type

:

Commercial, Industrial-Light, Office, Residential, Retail, Warehouse & Distribution

Buildable Acres

:

9.4

Is Divisible

:

Yes

Is Shovel Ready

:

Yes

Is For Sale

:

Yes

Is Price Negotiable

:

Yes

Interstate Name 1

:

90 (Exit 48)

Interstate Distance 1

:

3.50

Interstate Name 2

:

90 (Exit 47)

Interstate Distance 2

:

9.50

Highway Name 1

:

33

Highway Distance 1

:

1

Highway Name 2

:

5

Highway Distance 2

:

2.80

Highway Name 3

:

63

Highway Distance 3

:

3

Airport Name 1

:

Buffalo Niagara International Airport

Airport Distance 1

:

35

Airport Name 2

:

Greater Rochester International Airport

Airport Distance 2

:

28

Airport Name 3

:

Genesee County Airport

Airport Distance 3

:

3.20

Has Parking

:

Yes

Is Parking Paved

:

Yes

Video URL 1

:

https://www.youtube.com/watch?v=RRslyBVJ-4c
Electric Provider

:

National Grid

Gas Provider

:

National Fuel Gas

Is Electric On Site

:

Yes

Is Gas On Site

:

Yes

Is Telecom On Site

:

Yes

Is Water On Site

:

Yes

Water Provider

:

Genesee County Water

Business Park

:

Upstate MedTech Park

Is Brownfield

:

No

Is Floodplain

:

No

Is Trade Zone

:

Yes

Is Wetland

:

No

Phase 1 Environmental Report

:

Available

Streetview

:

Available

Topography

:

Available

Address1

:

99 MedTech Drive

Address County

:

Genesee

Address State

:

NY

Zip Code

:

14020

Site Size (Acres)

:

9.40

Is Featured

:

Yes

Latitude (Geo-coded)

:

43.01

Longitude (Geo-coded)

:

-78.14

Address for Geo-coding

:

Batavia, New York