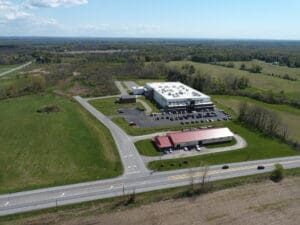 Located at the intersection of State Routes 5 and 77, and less than 1 mile from Interstate 90 (Exit 48-A), the Buffalo East Tech Park campus is an ideal site for businesses to easily access the customers and workforce of Buffalo and Rochester.
The Genesee County Economic Development Center has developed 67 shovel-ready acres in this town of Pembroke site, which is zoned for advanced manufacturing. Manufacturing, warehousing, commercial and mixed-use projects can be supported by the available infrastructure and zoning.
Buffalo East Tech Park is home to artisan cheesemaker Yancey's Fancy, which constructed a 112,000 square foot facility in 2014-2015, and is well suited for high-tech and green-tech projects, light manufacturing and distribution centers.
A 3-Acre retail parcel at the entrance to the site is available on Route 5, along with a 15-Acre parcel available in the interior of the site.
ED First Name

:

Chris

ED Last Name

:

Suozzi

ED Company

:

Genesee County Economic Development Center

ED Address 1

:

99 MedTech Drive

ED Address 2

:

Suite 106

ED City

:

Batavia

ED State

:

NY

ED Zip Code

:

14020

ED Telephone

:

585-343-4866

ED Fax

:

585-343-0848

ED Cellphone

:

585-409-1301

ED Email Address

:

csuozzi@gcedc.com
ED Website URL

:

http://www.gcedc.com
Status

:

Available

Available Acres

:

27

Available Sq Ft

:

27

Max Contiguous Acres

:

20

Max Contiguous Sq Ft

:

20

Building Land Type

:

Commercial, Industrial, Industrial-Light, Retail, Warehouse & Distribution

Capacity of Largest Bridge Crane

:

undefined

Contiguous Acres Available for Development

:

20

Current Previous Use

:

Vacant Farmland

Is Contiguous

:

Yes

Is Shovel Ready

:

Yes

Ownership

:

Genesee County Economic Development Center

Is For Sale

:

Yes

Sale Price

:

$55,000

Is Price Negotiable

:

Yes

Rental Rate Annual

:

Interstate Name 1

:

Interstate 90 (NYS Thruway Exit 48-A)

Interstate Distance 1

:

1

Interstate Name 2

:

Queen Elizabeth Way (CAN)

Interstate Distance 2

:

33

Highway Name 1

:

NYS Route 5

Highway Name 2

:

NYS Route 77

Port Name 1

:

Port of Buffalo

Port Distance 1

:

31

Airport Name 1

:

Buffalo Niagara International (BUF)

Airport Distance 1

:

19

Airport Name 2

:

Rochester International (ROC)

Airport Distance 2

:

45

Electric Provider

:

National Grid

Gas Provider

:

National Fuel

Is Electric On Site

:

Yes

Is Gas On Site

:

Yes

Is Telecom On Site

:

Yes

Is Water On Site

:

Yes

Business Park

:

Yes

Is Trade Zone

:

Yes

Phase 1 Environmental Report

:

Complete, Available

Proximity to Substation

:

On-Site

Topography

:

Flat

Address1

:

8818 Brickhouse Corners Road

Address2

:

Route 77 and Route 5, Pembroke, NY

Address County

:

Genesee

Address State

:

NY

Zip Code

:

14036

Site Size (Acres)

:

67

Is Featured

:

No

Latitude (Geo-coded)

:

42.99

Longitude (Geo-coded)

:

-78.41

Address for Geo-coding

:

Corfu, New York