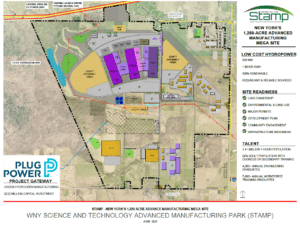 The Western New York Science & Technology Advanced Manufacturing Park (STAMP) is a 1,250-acre mega site. STAMP is located in Genesee County at the center of western New York's largest population, research, and workforce training hubs. Download our Guide to WNY STAMP
STAMP is a strategically located in NYPA's low-cost hydropower zone. STAMP provides high-capacity, 100% renewable, reliable power sources at prices under $0.035/kWH. These assets led Plug Power to select STAMP as the site for North America's largest green hydrogen manufacturing plant.
The Genesee County Economic Development Center has completed all site-level design and engineering, and all-site level environmental and zoning approvals for STAMP.
STAMP is suited to accommodate Advanced Manufacturing projects. Target industries include semiconductor manufacturingSTAMP Brochure, renewables manufacturing, and biopharma manufacturing.
High-capacity industries benefit from STAMP's location and utility infrastructure.
NYPA (500 MW) and National Grid (35 MW) electrical circuits.
National Fuel Gas (1000 MCF/HR) natural gas service
Expanding (1 MGD to 12 MGD) water and wastewater capacities.
ED First Name

:

Chris

ED Last Name

:

Suozzi

ED Company

:

Genesee County Economic Development Center

ED Address 1

:

99 MedTech Drive

ED City

:

Batavia

ED State

:

NY

ED Zip Code

:

14020

ED Telephone

:

585-343-4866

ED Fax

:

585-343-0848

ED Cellphone

:

585-409-1301

ED Email Address

:

csuozzi@gcedc.com
ED Website URL

:

http://www.wnystamp.com
Status

:

Available

Available Acres

:

1,250

Available Sq Ft

:

1,250

Max Contiguous Acres

:

650

Max Contiguous Sq Ft

:

650

Building Land Type

:

Industrial, Industrial-Light, Industrial-Heavy

Capacity of Largest Bridge Crane

:

undefined

Contiguous Acres Available for Development

:

650

Current Previous Use

:

Farmland

Is Contiguous

:

Yes

Is Divisible

:

Yes

Is Shovel Ready

:

Yes

Is Soil Boring Report Available

:

Yes

Ownership

:

Genesee County Economic Development Center

Previous Tenant

:

Agricultural - Crop Fields

Is For Sale

:

Yes

Sale Price

:

$135,000

Is Price Negotiable

:

Yes

Rental Rate Annual

:

Sale Price Units

:

per acre

Interstate Name 1

:

New York State Thruway (Interstate 90)

Interstate Distance 1

:

5

Highway Name 1

:

New York State Route 63

Highway Name 2

:

New York State Route 77

Highway Name 3

:

New York State Route 5

Highway Distance 3

:

5

Port Name 1

:

Port of New York & New Jersey

Port Distance 1

:

345

Airport Name 1

:

Buffalo Niagara International Airport

Airport Distance 1

:

25

Airport Name 2

:

Greater Rochester International Airport

Airport Distance 2

:

40

Airport Name 3

:

Toronto Pearson International Airport

Airport Distance 3

:

112

Electric Provider

:

NYPA (Transmission), National Grid (Distribution) 535 MW, $0.035 KWH

Gas Provider

:

National Fuel

Is Electric On Site

:

Yes

Is Gas On Site

:

Yes

Is Telecom On Site

:

Yes

Is Water On Site

:

Yes

Sewer Provider

:

STAMP Wastewater Works Corporation

Telecom Provider

:

Verizon, Empire Access

Waste Water Excess Capacity

:

6-11 MGD

Water Excess Capacity

:

7-12 MGD

Water Provider

:

STAMP Water Works Corporations

Business Park

:

Yes

Is Trade Zone

:

Yes

KVA

:

535 MW

Phase 1 Environmental Report

:

Completed Phase 1, Phase 2, Generic Environmental Impact Statement Available

Proximity to Substation

:

On-Site

Topography

:

Flat

Address1

:

6699 Alleghany Road

Address County

:

Genesee

Address State

:

NY

Zip Code

:

14013

Site Size (Acres)

:

1,250

Is Featured

:

Yes

Latitude (Geo-coded)

:

43.08

Longitude (Geo-coded)

:

-78.40

Address for Geo-coding

:

Basom, New York