Renaissance Commerce Park
Located on the former Bethlehem Steel site just south of Buffalo, New York, the 240-acre commerce park offers extraordinary economic development opportunities for light advanced manufacturers and warehouse distribution businesses.
NYS Brownfield Cleanup Program Tax Credits
Federal Opportunity Zone
Rail service connections to four (4) Class 1 carriers and Great Lakes deep water port access on site.
Transportation access to Canadian border crossing and multiple interstate highways within minutes.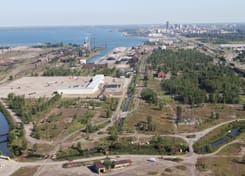 2301-2331 Hamburg Turnpike, Lackawanna
Size: 10-60 acre parcels available.  Search additional properties.
Zoned: Manufacturing and warehouse distribution.
Location: Site is located along the west side of NY Route 5 (Hamburg Turnpike) in the City of Lackawanna. The site is rail served and located adjacent to the Port of Buffalo. Interstate access to both I-90 (New York State Thruway) and I-190 within 4 miles. Access to international border crossing at the Peace Bridge within 8 miles.
Benefits: Electricity is provided by National Grid and natural gas provided by National Fuel. The site is located in the New York Power Authority's (NYPA) low cost hydropower zone.
Join the company of TMP Technologies, Sucro Sourcing (video), and Welded Tube.
Tentant Spec Space Available: 150,000 sq. ft., single story industrial building has opportunities for single or multiple tenants with customized office build-out.
WNY STAMP Mega Site
STAMP is a 1,250-acre mega site located at the center of upstate New York's largest population, research, and workforce training hubs in Genesee County. The STAMP mega site is strategically located in NYPA's low-cost hydropower zone with 100% renewable, reliable power available.
STAMP connects New York's high-tech corridor (Buffalo & Rochester: view video) with a campus that has completed all site-level design and engineering, and all-site level environmental and zoning approvals for advanced manufacturing projects.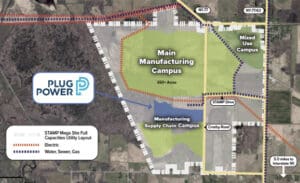 Size: 10-1,200 acres
Zoned: Advanced Manufacturing. Including manufacturing, R&D and distribution.
Located: In a Foreign Trade Zone – 5 minutes north of the NYS Thruway (I-90) exit 48A and less than 20 minutes from the Buffalo Niagara International Airport.
Utility: Infrastructure available includes electric (115kv and 345kv on site) gas, water (12mgd), and sewer (12mgd).
Cost: START-UP NY Site (10 year NYS tax free). The site is located in the New York Power Authority's (NYPA) low cost hydropower zone.
Talent: Served by 6 major U.S. universities and a network of dozens of colleges, community colleges, and training centers that produce 9,600 STEM & Engineering degree and certificate graduates annually.
Find additional details in our STAMP brochure and learn about Plug Power Inc. – North America's largest green hydrogen production facility in construction on a 56-acre parcel at STAMP. Also in construction is STAMP's 345-115kV electric substation.
1501 College Ave, Niagara Falls
12.5-acres in this 19-acre redevelopment site are certified in the NYS Department of Environmental Conservation Brownfields Cleanup Program (BCP) under the pre-2008 revised program rules. All parcels are eligible for a 20% non-capped, refundable tax credit for all site preparation and tangible property costs related to a redevelopment project. Learn more about Brownfields and Search our database of commercial properties.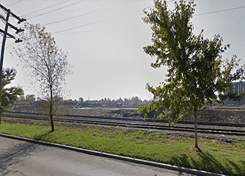 Location: In the heart of the City of Niagara Falls' industrial center approx. 1 mile from I-190 and 3,5 miles to both the Rainbow and Lewiston-Queenston Bridge to Canada.
Site Features: A certificate of completion was issued by the New York State Department of Environment and Planning on 12/31/12. A 20% uncapped tax credit is available on all capital expenditures, which expires in 2021. All utilities available on site, including 115kV power lines and significant natural gas capacity. A 1500' rail spur served by both CSX and CN on site. An additional 25 acres south of the property is also available for development.
Buffalo Lakeside Commerce Park
Buffalo Lakeside Commerce Park (BLCP) is the premier brownfield redevelopment project in the City of Buffalo on reclaimed waterfront land, with multi-modal transportation opportunities and excellent access to the interstate. Learn more about Brownfields. Search our database for additional properties.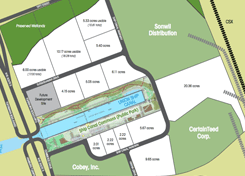 Size: Approximately 105 acres with sites from 2 to 30 acres available
Zoned: Mixed Use (office & light industrial)
Located: Off  NYS Route 5 highway and close to the I-190 with two access roads; surrounded by thruway businesses (gas stations and truck stops) immediately off of the I-90 exit and agricultural land.
Utility: Electric power is served by National Grid. Natural Gas is served by National Fuel.
Benefits: Smart growth urban business park on reclaimed waterfront land with NYS Empire Zone benefits and potential Brownfield Tax Credits.
Price: $45,000 to $55,000 per acre
5222 Lockport Junction Road – Town of Cambria
An excellent industrial brownfield opportunity exists proximate the Lockport Industrial Park.  Zoned L-1 Light Industrial, the site offers industrial development in a rural setting.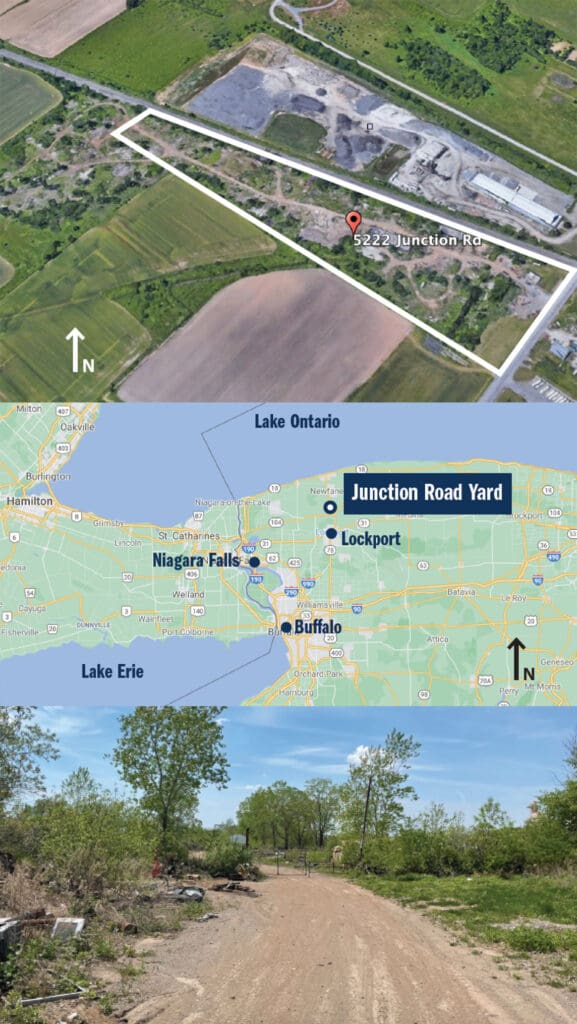 Size: 16.8 acres
Site Features: All utilities present at site with a fiber optic amplification facility under development 0.5 miles away.  Ideally situated for manufacturing and/or warehousing operations.
As a brownfield site with Phase I and II Environmental Site Assessments completed, the property is eligible for the New York State Brownfields Cleanup Program which provides lucrative tax credits for both remediation and redevelopment.  The site is also within the New York Power Authority's hydropower allocation zone.
Niagara County has temporary ownership of the property and is seeking parties interested in redevelopment.
Riverview Solar Technology Park
This shovel-ready commercial development site features on-site solar generation. The business park offers both existing commercial space and shovel-ready land for new construction. In addition to the various solar applications that are utilized throughout the Solar Park to provide power to tenants, all buildings within this development are constructed using the latest green construction methods to minimize their environmental impact. View our database to search additional properties.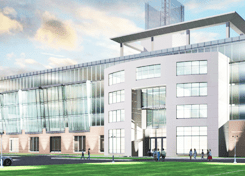 Size: 3 to 100 acre lots available. 56,000 to 104,000 sq. ft. existing building space and 10,000 to 500,000 sq. ft. proposed building space planned.
Zoned: Office, R&D, Manufacturing & Distribution
Located: Site is adjacent to the Niagara River and NY I-190 at the Grand Island Bridge. Strategically situated within 15 minutes of three Canada borders and two international airports capitalizing upon cross-border commerce.
Utility: Electricity is provided by National Grid. The site is located in the New York Power Authority's (NYPA) low cost hydropower zone.