Renaissance Commerce Park
Located on the former Bethlehem Steel site just south of Buffalo, New York, the 240-acre commerce park offers extraordinary economic development opportunities for light advanced manufacturers and warehouse distribution businesses.
NYS Brownfield Cleanup Program Tax Credits
Federal Opportunity Zone
Rail service connections to four (4) Class 1 carriers and Great Lakes deep water port access on site.
Transportation access to Canadian border crossing and multiple interstate highways within minutes.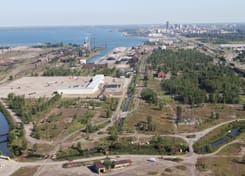 2301-2331 Hamburg Turnpike, Lackawanna
Size: 10-60 acre parcels available.  Search additional properties.
Zoned: Manufacturing and warehouse distribution.
Location: Site is located along the west side of NY Route 5 (Hamburg Turnpike) in the City of Lackawanna. The site is rail served and located adjacent to the Port of Buffalo. Interstate access to both I-90 (New York State Thruway) and I-190 within 4 miles. Access to international border crossing at the Peace Bridge within 8 miles.
Benefits: Electricity is provided by National Grid and natural gas provided by National Fuel. The site is located in the New York Power Authority's (NYPA) low cost hydropower zone.
Join the company of TMP Technologies, Sucro Sourcing (video), and Welded Tube.
Tentant Spec Space Available: 150,000 sq. ft., single story industrial building has opportunities for single or multiple tenants with customized office build-out.