WNY STAMP Mega Site
STAMP is a 1,250-acre mega site located at the center of upstate New York's largest population, research, and workforce training hubs in Genesee County. The STAMP mega site is strategically located in NYPA's low-cost hydropower zone with 100% renewable, reliable power available.
STAMP connects New York's high-tech corridor (Buffalo & Rochester: view video) with a campus that has completed all site-level design and engineering, and all-site level environmental and zoning approvals for advanced manufacturing projects.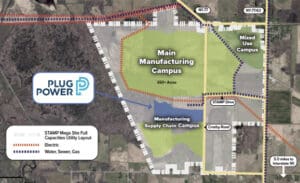 Western New York Science & Technology Advanced Manufacturing Park
Size: 10-1,200 acres
Zoned: Advanced Manufacturing. Including manufacturing, R&D and distribution.
Located: In a Foreign Trade Zone – 5 minutes north of the NYS Thruway (I-90) exit 48A and less than 20 minutes from the Buffalo Niagara International Airport.
Utility: Infrastructure available includes electric (115kv and 345kv on site) gas, water (12mgd), and sewer (12mgd).
Cost: START-UP NY Site (10 year NYS tax free). The site is located in the New York Power Authority's (NYPA) low cost hydropower zone.
Talent: Served by 6 major U.S. universities and a network of dozens of colleges, community colleges, and training centers that produce 9,600 STEM & Engineering degree and certificate graduates annually.
Find additional details in our STAMP brochure and learn about Plug Power Inc. – North America's largest green hydrogen production facility in construction on a 56-acre parcel at STAMP. Also in construction is STAMP's 345-115kV electric substation.