WNY STAMP Mega Site
STAMP is New York's next generation mega site (1,250 acres) located in Genesee County and will accommodate nanotechnology companies including semiconductor 450mm chip fab, flat panel display, photovoltaic manufacturing, and advanced manufacturing. Learn more about NYS Certified shovel ready sites. Search our database for additional site options.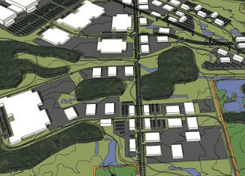 Western New York Science & Technology Advanced Manufacturing Park (WNYSTAMP)
Size: Mega site 1250 acres
Zoned: R&D and manufacturing campus for nanotechnology and high tech Industries with office, mixed use and retail potential.
Located: 5 minutes north of the NYS Thruway (I-90) exit 48A and less than 20 minutes from the Buffalo Niagara International Airport.
Utility: Infrastructure available includes electric (115kv and 345kv on site) gas, water (12mgd), and sewer (12mgd).
Cost: START-UP NY Site (10 year NYS tax free). The site is located in the New York Power Authority's (NYPA) low cost hydropower zone.