Affordable Utilities
Billions of dollars are being invested into the region's already reliable and redundant utility infrastructure to meet the future demands of Buffalo Niagara businesses, industries, and residents. Regional incentives allocating low-cost hydropower are available to eligible businesses. Beyond incentives, utility providers also offer capital infrastructure programs to accommodate business expansion or new construction projects. Two providers supply most of the commercial and industrial electricity used in the Buffalo Niagara region. Two providers, one of which also supplies electricity, supply most of the commercial and industrial gas used in our region. View territory maps for National Fuel, National Grid, and New York State Electric & Gas.
Certain municipalities in the region operate their own public utility power generation infrastructure, offering lower power rates to its commercial & industrial power users. These include the cities of Jamestown and Salamanca and the villages of Akron, Andover, Angelica, Arcade, Berger, Brocton, Castile, Wellsville, and Westfield.
Plenty of Hydropower Means Utility Cost Savings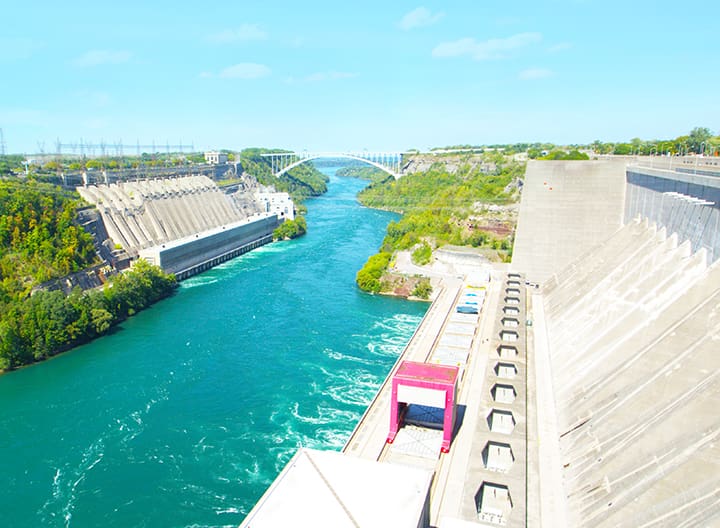 Buffalo Niagara has a well-earned reputation for clean, green, low-cost electric power thanks to one of the largest renewable energy sources in the world: Niagara Falls. At the Robert Moses Niagara Power Plant in Lewiston, NY, the power of Niagara Falls is harnessed by 25 turbines to create hydroelectricity. In excess of 2.5 GW of clean, renewable power is generated at this facility; a total of 19% of the State's grid is powered by hydroelectric energy. 
The New York Power Authority, the largest state public power utility in the country, provides specially priced power to companies within the Buffalo Niagara region. Companies who are creating jobs or adding electric load are eligible to apply for allocations of low-cost hydropower providing competitively priced, clean energy with fixed-rate contracts. The savings that can be realized through a hydropower allocation significantly influences a company's bottom line.
A Water Rich Region Supporting a Strong Utility Infrastructure
Buffalo Niagara is located on the Great Lakes System — containing one-fifth of the world's fresh surface water  — along the Niagara River, among one of the world's most popular natural wonders, Niagara Falls. 
Water & Wastewater Providers – Counties, cities, and towns in the region are the primary providers of water and wastewater services. Infrastructure exists across the region for users of all sizes.
Across the region, water and wastewater utilities are using state of the art purification processes and implementing green infrastructure policies for proactive prevention which makes our communities more resilient to climate change. 
Nature-based green infrastructure improvements not only help to manage stormwater and runoff, making our sewer system more resilient to a changing climate, it also reduces urban heat island effects, improves air quality, and makes our neighborhoods better able to adapt to future scenarios. Take a tour of recent City of Buffalo infrastructure projects. 
Reliable Telecommunication Utility Solutions
Through a vast fiber-optic network, your company has access to efficient, high-speed business internet, phone, and TV services.
Telecommunication Providers – Two providers support most of the regions's businesses. Find the right plan with Verizon or Spectrum to get up and running quickly. Regional efforts to increase the deployment of broadband infrastructure and fiber connectivity are well underway across the eight counties of our region.
Additional Utilities Resources