Insurance
Buffalo Niagara has innate advantages perfectly suited to support your insurance company expansion or relocation. Our talented and affordable workforce, low cost of living, accessible amenities, easy commute, and hardworking talent pipeline are just a few reasons why you should consider Buffalo Niagara.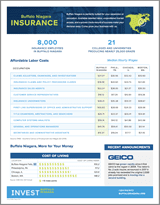 Buffalo Niagara boasts:
•  47 colleges and universities within 100 miles of downtown Buffalo
•  8,000 current employees in insurance industry
•  Cost of living on pace with the national average, significantly lower than competitive metro areas
•  Low risk of natural disaster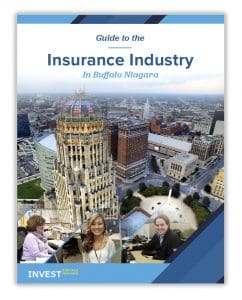 Take a closer look at our Buffalo Niagara advantages with this Insurance Industry guide. View an industry overview, incentive highlights, real estate options, human resource tips, and a business expansion checklist.
"The quality of the people in WNY has been a key to Merchants Insurance thriving for over 100 years. They are well educated, have a strong work ethic and more importantly, care about each other and their customers. That's what the 'City of Good Neighbors' is all about."
– Robert Zak, Merchants Mutual Insurance