Food and Beverage Processing
The Buffalo Niagara region is a cornerstone of New York State's $3.6 billion agribusiness and food and beverage processing industries. New York is America's fourth-largest dairy producing state and Buffalo Niagara is the state's top producer of dairy products, producing more than 3 billion pounds of fluid milk annually. The Buffalo Niagara region is home to a strong and growing cluster of more than 1,000 companies and an exceptionally high concentration of other food-related companies and farms.

0%
state corporate income tax rate for food processors

Abundant
fresh clean water, and waste water treatment facilities

#1
state for yogurt, sour cream, and cottage cheese production
Why Food and Beverage Processing Companies Locate in Buffalo Niagara
The industry employs thousands of employees in areas like frozen food manufacturing, dairy production and processing, ice cream and frozen desserts, cheese manufacturing, dried and dehydrated food manufacturing, and pet food manufacturing, including: 
Food and beverage processing companies from across the country choose Buffalo Niagara because of its unique regional advantages. Among them are:
Reliable infrastructure. Our region offers an abundance of fresh water and water aquifiers thanks to our strategic location on the shores of the Niagara River and lakes Erie and Ontario. Regional municipal sewer and wastewater treatment facilities can easily accommodate your needs.
Robust educational ecosystem. Your company will enjoy a robust talent pipeline thanks to nationally ranked programs at Cornell University, Alfred University, Erie Community College, and others.
An existing, skilled workforce. Thousands of people in Buffalo Niagara work in agribusiness and food and beverage processing—and these industries include some of our fastest growing occupations. 
Sources: NYS Department of Agriculture and Markets (industry data and rankings)
Buffalo Niagara Food & Beverage Processing Brochure
Invest Buffalo Niagara has helped dozens of food and beverage processing companies expand or relocate to the Buffalo Niagara region. Learn more about available support from the region's 21 colleges and universities, including one of the country's premier food science programs at Cornell University. Find out how these institutions offer research collaboration opportunities and laboratory testing and educational opportunities for your company's future workforce. And learn about how companies like yours thrive in Buffalo Niagara.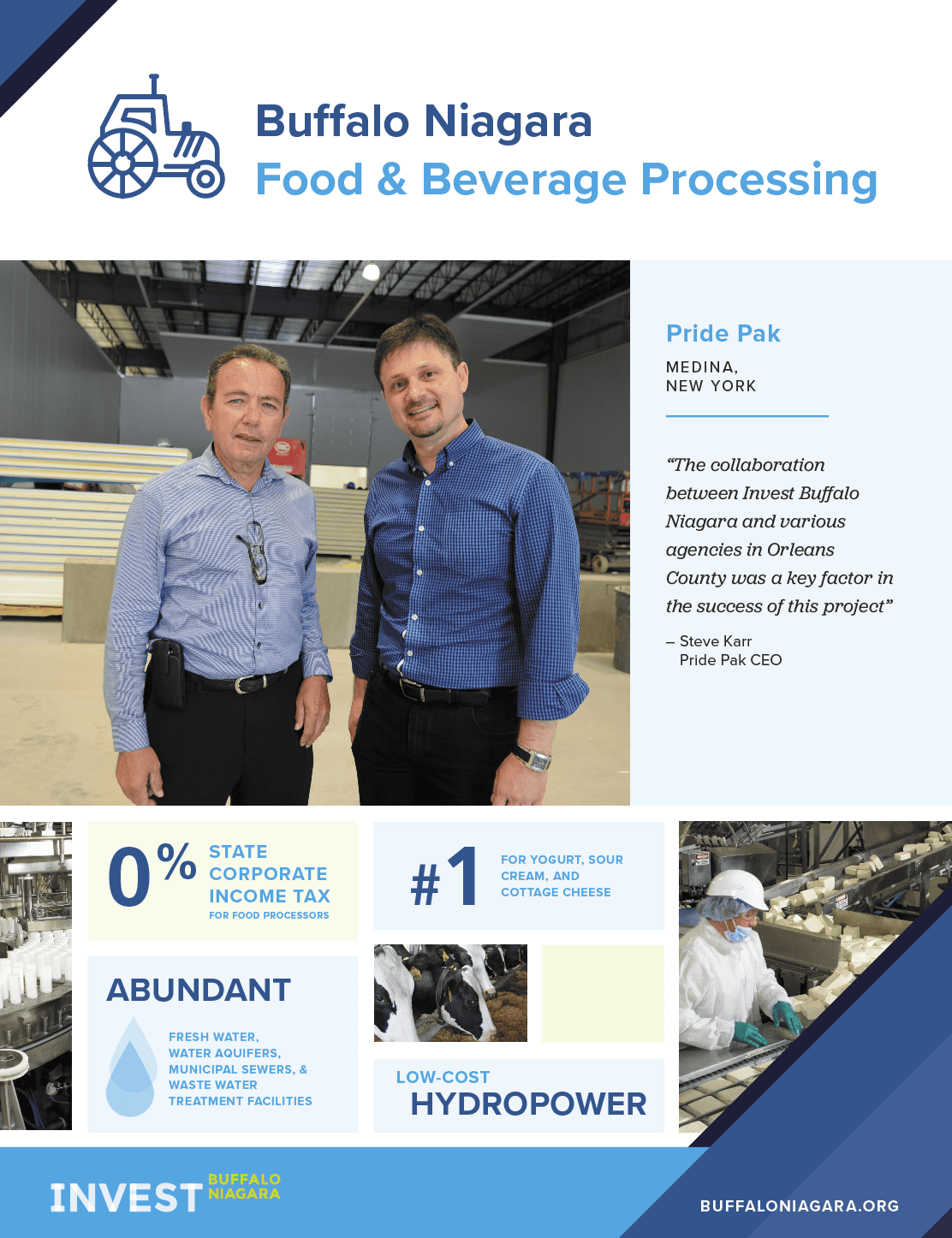 Additional Resources