Succeeding Across Borders
Canadian businesses preparing to expand internationally have several compelling reasons to rank the United States high on their list of prospects. The simplest of these reasons: a population market that is approximately ten times the size of Canada's. The similarities shared between the U.S. and Canada in terms of business practices, highly developed infrastructure, currency and an English-speaking labour force make the decision to look directly south of the border clear. In addition, Buffalo Niagara facilitates $78 billion in annual trade between Canada and the United States. That's nearly 15 percent of the total trade conducted between the world's two largest trading partners.
Our friends in the Greater Toronto Area hold additional business advantages to an expansion into the Buffalo Niagara region: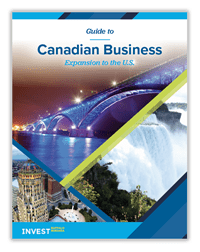 Proximity to Canadian and U.S. locations (You're home in time for dinner!)
Appeal of the "Made in the U.S.A." label
Cultural similarities
Reduced bridge delays & costs
Same regulators as your U.S. competitors for production purposes
Easily share key management staff & resources between Canadian and U.S. facilities
Canadian companies with product in the U.S. and companies considering expanding their sales to the U.S. will benefit from this live presentation and can take advantage of the Q&A time with our guest lawyer.
Travel between the U.S. and Canada is made easy with Nexus cards. This expedited travel system WHTI-compliant for land and sea travel as well as airports using the NEXUS program. There is a similar program for trucks called FAST.