Back Office
Companies like Citigroup, HSBC, Strategic Financial Solutions, and more have picked Buffalo Niagara to locate back office operations. In Buffalo Niagara, companies find affordable office space, available talent, and a high quality of life with plentiful and affordable amenities. Over 16,000 employees currently work in the industry and the educational pipeline suggests there's much more room to grow.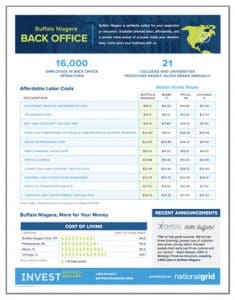 Buffalo Niagara boasts:
•  47 colleges and universities within 100 miles of downtown Buffalo
•  Turnover rates 15% less than other comparable metro regions
•  16,000 current back office employees
•  Cost of living below the national average
•  Eastern Standard Time increases access to a large portion of the world's customers
•  Access to bilingual employees and employees with a lack of regional accent
For more information, download our free Back Office Operations Guide, with incentive highlights, real estate options, human resource tips, and a business expansion checklist.
"We are thrilled to be expanding into Western New York because of the availability of strong qualified talent and an unrivaled work ethic."
– Dave Masi, OneTouch Direct Executive Vice President