Heavy Industrial Urban Brownfield Redevelopment Opportunity
12.5-acres in this 19-acre redevelopment site are certified in the NYS Department of Environmental Conservation Brownfields Cleanup Program (BCP) under the pre-2008 revised program rules. All parcels are eligible for a 20% non-capped, refundable tax credit for all site preparation and tangible property costs related to a redevelopment project. Learn more about Brownfields and Search our database of commercial properties.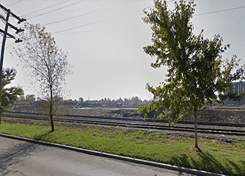 1501 College Ave, Niagara Falls
Location: In the heart of the City of Niagara Falls' industrial center approx. 1 mile from I-190 and 3,5 miles to both the Rainbow and Lewiston-Queenston Bridge to Canada.
Site Features: A certificate of completion was issued by the New York State Department of Environment and Planning on 12/31/12. A 20% uncapped tax credit is available on all capital expenditures, which expires in 2021. All utilities available on site, including 115kV power lines and significant natural gas capacity. A 1500' rail spur served by both CSX and CN on site. An additional 25 acres south of the property is also available for development.