Manufacturing Electric Components
Buffalo Niagara's perfectly suited to support companies that manufacture electronics components. The region boasts a concentration of machine shops that more than doubles the national average. Collaborative initiatives like the Northland Workforce Training Center provide for-credit technical training in advanced manufacturing skills like electrical construction, CNC precision machining, machine tool technology, and mechatronics. Northland also offers wrap-around services to equip workers with the soft skills and adaptability they need to thrive.

0%
state corporate income tax for manufacturing companies

STRONG
industry supply chain

163
Machine Shops (Double National avg. concentration)
Why Electric Components Manufacturers Choose Buffalo Niagara
Invest Buffalo Niagara has played a key role in developing the region's robust electronic components ecosystem, including companies like:
Electronic components manufacturers from across the country choose Buffalo Niagara because of the region's talented workforce and because of its robust regional supply chain. Thousands of people working in fields like the production and processing of nonferrous, ferroalloy, iron, and steel; semiconductor and electronic components; petroleum and coal products; and forging and stamping.
Moog is an international electronic components manufacturer with 13,000 employees and facili-ties in 26 countries. In Buffalo Niagara, they employ about 4,000 people at their headquarters in East Aurora, NY, where they manufacture components for cutting-edge space satellite, military aircraft, and industrial applications.
"So many people who have relocated here have a Buffalo connection. If you're an engineer, for example, looking for really exciting work, you don't have to be in Silicon Valley," said John Scannell, the CEO of Moog, Inc., during an interview on our podcast. "There's this wonderful opportunity to take advantage of talent that wants to be here. If we were in Boston or Silicon Valley, you'd have competition for talent with all of these other companies—which drives costs up, which drives the cost-of-living up, which drives people to jump around. By being here in Buffalo Niagara and investing for the long-term, we have the advantage that there is wonderful talent here and we've been able to tap into that."
Electronics components manufacturers can take advantage of incentives too. Learn more.
Sources: Lightcast (establishments and employment)
Invest Buffalo Niagara is well equipped to assist in your expansion project. For more information, download our free Advanced Manufacturing Guide, with workforce data, training programs, incentive highlights, support resources, incentive highlights, real estate options, and a business expansion check-list.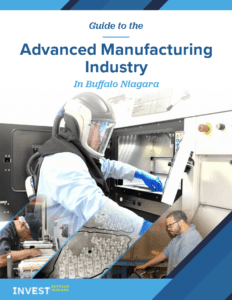 Additional Resources