Sensor Technology Manufacturing
A robust educational ecosystem makes the Buffalo Niagara region the perfect choice for sensor technology manufacturers who are considering expanding or relocating. Our region enjoys close proximity to world-renowned engineering schools at the University at Buffalo, the Rochester Institute of Technology, the University of Rochester, and Alfred University. What's more, there are 45 colleges and universities within a 100-mile radius of our region, and 21 of them are located within Buffalo Niagara. These institutions together produce 25k+ graduates each year, many of them in fields like software development, electrical engineering, mechanical engineering, electronics, and more.

3,800+
Engineering + engineering tech graduates annually

0%
state corporate income tax for manufacturing companies

Significant
labor cost savings for software developers & electrical engineers
Why Sensor Technology Manufacturing Companies Choose Buffalo Niagara
Invest Buffalo Niagara plays a key role in helping sensor technology manufacturing companies expand or relocate to the Buffalo Niagara region:
Sensor technology manufacturers from across the country choose Buffalo Niagara because of its unique regional advantages.
Viatran is a subsidiary of a publicly-traded, out-of-state parent company, operating as a separate division in the Buffalo Niagara region. It manufactures and repairs pressure sensors and transmitters for a wide variety of industries.
Based in Buffalo Niagara, Viatran employs approximately 125 people at its location in Tonawanda, NY. As its lease was coming to an end, Viatran was poised for a significant expansion that would make their existing facility inadequate. The leadership team conducted a global search for expansion locations—with consideration given to other corporate facilities with capacity in Massachusetts, Texas, and Malaysia.
Ultimately, Viatran chose to remain in Buffalo Niagara. Key decision factors were the company's existing workforce and local leadership team, Buffalo Niagara's strong talent pool for future hiring, a strong incentives offer, and the availability of a building that could accommodate its growth. In addition, Viatran was able to take advantage of incentives like Excelsior Tax Credits from Empire State Development.
Sources: US Department of Education (college graduates), Lightcast (establishments and employment)
Invest Buffalo Niagara is well equipped to assist in your expansion project. For more information, download our free Advanced Manufacturing Guide, with workforce data, training programs, incentive highlights, support resources, incentive highlights, real estate options, and a business expansion checklist.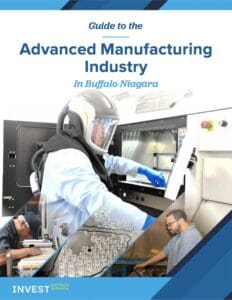 Additional Resources